in the new blogger beta the comment feed isn't working yet for migrated blogs. i made my recent comments appear in the sidebar with dapper, which i know from greg (freshblog). and here i show you how it works.
this description recalls hints from the hearsay-method on freshblog (steps 1 to 3 below).

1. you need a blogspot-blog in beta. in the settings go to "comments" and write your googlemail-address into the "comment-notification-address-field".


2. you need a comments blog (another blogspot-blog) where all your comments are at one place. in the settings of your comments-blog go to the e-mail-section, complete the mail-to-blogger field to have a comments-blog's e-mail address (keep this address private!) and activate "publish".


3. you need a googlemail-account to forward the comments automatically from your blog to the comments-blog. in the settings make a filter - subject: [your blogtitle] - to forward the comments e-mailed to googlemail to your comments-blog's e-mail address.


4. you need dapper to extract the parts of content you like to show from the comments blog and show it in a sidebar-widget on your blog. create a dapp, paste your comments-blog's url - be sure to include the "index.html" [http://xxxxx.blogspot.com/index.html], add it to the basket and klick "finish" and "ok". then klick "skip to next step" and "get started". klick once on a post: all the posts should change the colour like this: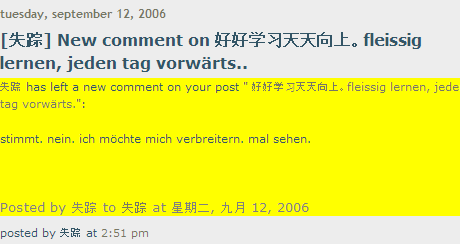 type "Posted" into the "end constraint"-box so dapper stops extracting right before it. you can try to include other parts of the text but it worked best as shown. e.g. if you want the date to be included, leave the end-constraint-box empty. klick "save and continue". name it "comment", save it. then create another field, because we still need the link to the original post. it should look like this: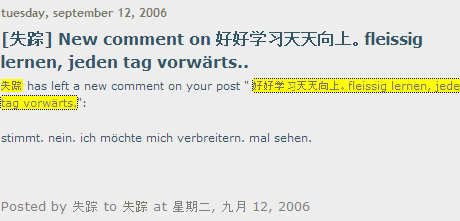 klick "save and continue". name it "link", save it. next klick "create a group", select both fields in the upper right frame and click on "create group from selected fields". name it "comment+link". klick "save your dapp". create an rss-feed and select the settings as shown: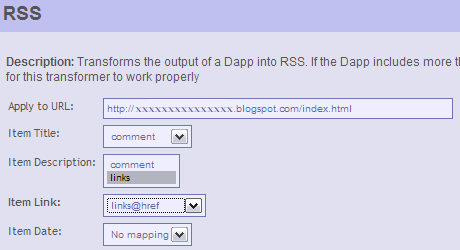 klick on "generate URL". copy the URL.
5. go to your blogger-account and create a feed-widget for your sidebar. paste the URL. save it and you're done.

there isn't any long-time experience with it so i don't know how good it works over time. actually my widget should show the five most recent comments. first it showed them but since i had two new comments it shows only the two newest. but thats good as well. it does the job to show the newest. to be sure check if my recent comments widget still works. if i forgot something please let me know.

update 2006 0921: i just came across a blog which is using my hack. So it seems to work not only on my blog! also the haloscan-hack that i used before the beta-switch is working again. so you can use that one too.